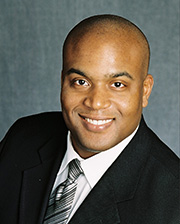 Cedric received his Bachelor's in Chemistry from Tufts University in 1999. Then went onto receive his Master's in Analytical Chemistry from Purdue University in 2002. Cedric graduated from Indiana University School of Law-Indianapolis in 2005 with his J.D. Following law school, Cedric has worked as an associate at Baker & Daniels (now Feagre Baker & Daniels), as well as Of Counsel at Bingham McHale (now Bingham Greenebaum Doll).
Cedric has drafted, filed and prosecuted patent, trademark and copyright applications to issuance. For a full list of Cedric's U.S. issued patents Click Here
He has drafted patentability options, invalidity and obviousness opinions and freedom to operate opinions.
Cedric has been actively involved in Indiana and Indianapolis. He champions the Patent Income Tax Exemption law (Indiana Code 6-3-2-21.7).